I KNOW WHAT YOU'RE THINKING....
"FACEBOOK ADS DOESN'T WORK AND IT'S JUST A WASTE OF MONEY"

For sure it doesn't work if you don't know how to make it work!
Do you think you can go into the ring to fight Mike Tyson without getting your ass kicked?
Or would you give a Ferrari to a kid and have him run the formula 1 championship?
Off course you won't! But maybe you did it already...
Maybe you already spent a ton of money on a Facebook ad campaign hoping to generate a lot of sales but you ended up with little to no conversions, and now you feel like you flushed your advertising budget down the drain, and you ended up thinking that this kind of advertising doesn't work.

ARE YOU SICK AND TIRED OF SPENDING YOUR HARD-EARNED MONEY ON FACEBOOK CAMPAIGN THAT SIMPLY COST YOU MORE THAN THEY MAKE YOU?
THEN YOU SHOULD STOP MAKING THIS COMMON ERRORS:
NOT USING THE RIGHT CAMPAIGN OBJECTIVE:
Facebook provide you with 11 different Campaign objective, if you're not choosing the right one you're wasting money.
NOT USING THE POWER OF FACEBOOK PIXEL:
How else are you going to be able to prove that what you are doing is working? If you're sending traffic without keeping tracking of all users events, you're loosing all the essential data that are needed to scale your campaign.
NOT TARGETING THE RIGHT AUDIENCE:
Targeting can make or break a campaign, Targeting the right people with the right message is the key to a successful ad campaign, targeting is not simply figuring out the general demographics of your audience, you should analyze every aspect of your target audience, starting for the language they speak and the words that they use in order to comunicate with them in the most effective way possible, that means a deep analyzis on social media, blogs, forum, retail platform like amazon and ebay and competitors channels and more.
NOT TESTING DIFFERENT AD CREATIVES AND VARIANTS:
Most of the business are just running one single ad with a single creative without testing different variants in order to optimize conversion, just a slightly variant of the creative can truly make or change your campaign by increasing CTR and decreasing CMP
UNDERESTIMATE THE POWER OF AN EFFECTIVE DIRECT SALES COPYWRITING:
It is extremely important to use persuasive copywriting, if you're not using the right structures you're limit your results.

​​RELYING ON AUTOMATIC BIDDING:
Bidding style can have a profound impact on driving conversions, and unfortunately, a lot of companies do it wrong. Automatic bids should only be used when you are unsure about the value of the action you're optimizing for. When scaling, using manual bidding is a MUST to drives the best perform outcomes.

​​NOT ANALYZING AND OPTIMIZING YOUR ADS:
Once you have enough data you should start break down your campaign and analyze every single aspect. Analyze and Optimize the delivery separately for different platform and device, segmenting audiences by age, gender and location, and optimize the call to actions, copy and ad creatives. On high budget scaling you need also to be careful about audience overlapping, it is important that your Adsets are not competing against each others on the bid auction.

NOT HAVING A SOLID RETARGETING CAMPAIGN:
There is a difference in how you should speak to a cold audience and how you should speak with a worm/hot audience, divide your retargeting campaign based on behaviours: video views, website visitors, specific page visitors, time spent on your website, add to cart, checkout initiated, and break it out further based on time ( 7 days, 14 days, 30 days) to test what is the most effective retargeting time frame for your business. It's really important to use different ad copy for each step of the funnel based on behaviours of the potential customers.

In order to generate revenue you must have a proper sales process in place.

LET US DOUBLE YOUR CUSTOMERS AND SALES IN 90 DAYS
WHILE YOU WATCH IT HAPPENS

THE IMPORTANCE OF HAVING A CLEAR STRATEGY

CHOOSE THE RIGHT OBJECTIVE
Facebook campaigns need to be optimized with the proper objective.
Facebook offers 11 main objectives and a massive arsenal of sub-objectives (Brand awareness, local awareness, reach, traffic, engagement, post engagement, page likes, event responses, offer claims, App installs, Video views, Lead generation, conversion, Purchase, initiate checkout, add to cart, content view, landing page view, product catalog sales, store visit) you need to optimize for the one that fit's best for your business.
If you need sales you need to optimize for sales!
If you are just boosting your post or you're doing engagement campaign, Facebook will just give you likes, comment and shares, because that's what you're asking for!
If you need conversion you must optimize for conversion!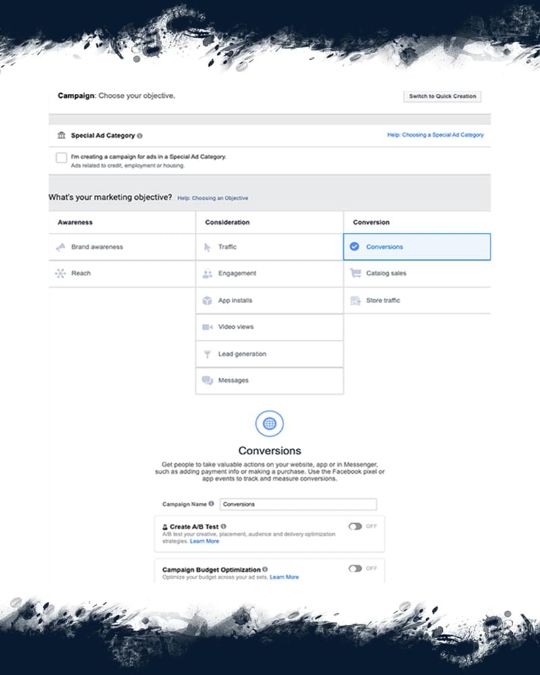 THE POWER OF FACEBOOK PIXEL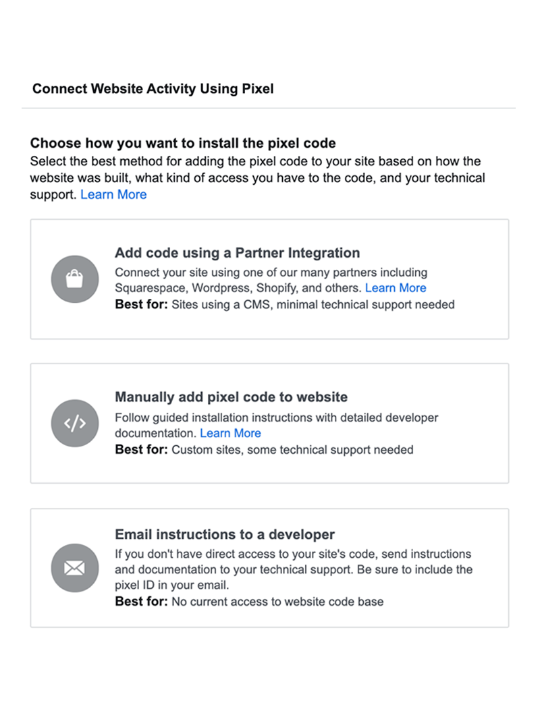 TRACKING AND REPORTING ARE ESSENTIAL PARTS OF ANY MARKETING STRATEGY.
From the moment you install the Facebook pixel on your website it begins tracking visitors and matches them to Facebook users.
Visitor data opens up a whole set of tactics like re-targeting / re-marketing, but the power of the Pixel truly manifests itself through the creation of customs audience and Lookalike Audiences based on them.
Lookalike audiences are created with the data captured by the pixel, giving the Facebook algorithm the power to find new, high converting users with similar attributes to the existing ones, and drastically improve conversions and returns on ad spends.
If you are not using it you're truly missing out on everything! In order to achieve results, is extremely important to set up a correct pixel segmentation using custom conversion, you need to create specific tracking events for every step of the funnel.

TARGETING THE RIGHT AUDIENCE

A major benefit of Facebook advertising is its ability to reach your exact audience.
Facebook is the most targeted form of advertising. You can advertise to people by age, interests, behavior, and location.
If you really know your customers, you can use Facebook advertising to laser-target them and get the most out of them.
When you're setting up an ad, the first thing Facebook will ask you to do is select the location, age, and gender of your target market.
Selecting only these three targeting options is a huge mistake. It will make your audience far too large.
Make sure you narrow down all three basic fields for every ad you create. This should be your first step

Targeting can make or break your campaign!
Targeting the right people with the right message is the key to success.
The starting point is selecting the basic characteristic of your target audience by narrowing down by age, gender, interests, jobs titles, field of study, behaviors, location, languages and connections.
A deep research on hidden interests is a key factor in order to maximize your ad cost and results by not targeting the same interest that anyone is bidding on (more competition = higher CPM / CPA)
Using hidden interest allow you to save on ad cost by targeting the same niche audience finding them trough different angles, using laser targeting techniques.
Facebook is an auction, if everyone is bidding for the same interests, the costs goes up!

Get back in touch with people who have engaged with your business, online or off.

FACEBOOK PAGE CUSTOM AUDIENCES
There are many kinds of custom audience that can be created in Facebook, the most commons are customs audiences based on your Facebook page.
You can create customs audience based on users that engaged with your Page, your posts, messages, ads, or even more in deep you can narrow it down by actions that users has taken on specific posts.
This is extremely powerful when it comes to re-targeting or creating lookalike audience.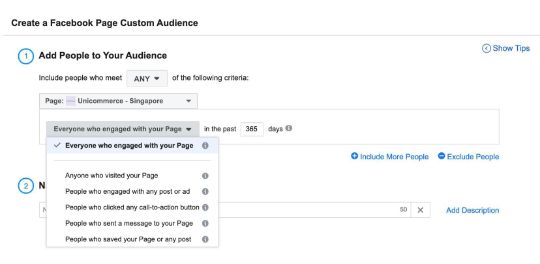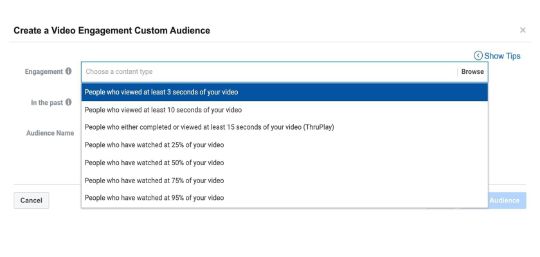 VIDEO ENGAGEMENT CUSTOM AUDIENCES
Another basic custom audiences are audiences based on users who engaged with your videos.
Basically you can create custom audiences of people who watched your videos, narrowing down by view time/percentage and even by selecting only specific videos.
As an example: if you're selling different products or services using multiple videos, you can create separate customs audiences based on specific product/service videos. If you're not already doing it, you're missing out something big!

WEBSITE CUSTOM AUDIENCES
Everyone should be driving traffic to a website or landing page, this allows you to really understand users behaviors and categorize them by actions that they have taken.
Let's make an example: you have a website selling multiple products or services divided in different sub categories and you're driving to your website 10.000 people a day.
When it comes to re-target them, you should segment your audience by specific action that they have taken on your website, I'm not only talking about segment it by the step of the funnel that they are in, but even by narrowing down by specific pages that they visited, buttons that they have pressed or time spent on the website, even on how much money they spent on it.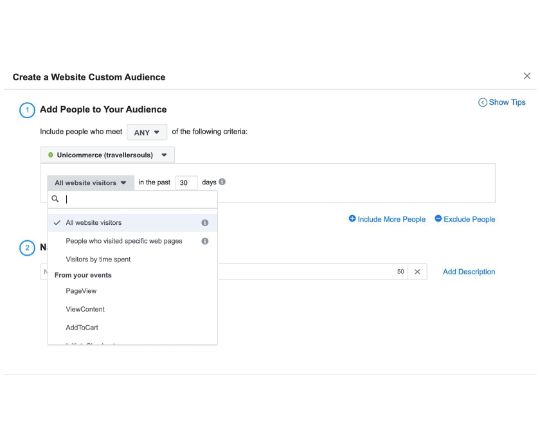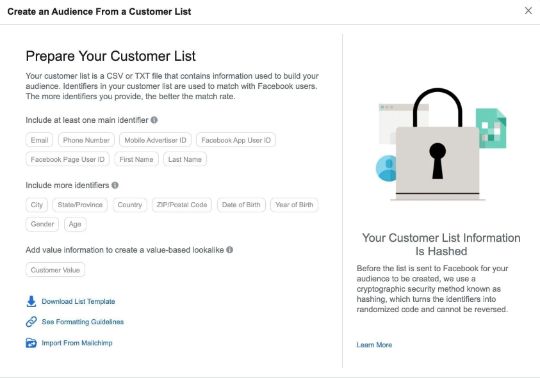 CUSTOMER LIST CUSTOM AUDIENCES
If you already have built a customer list, you can import it to Facebook and save it as a custom audience.
You can do it manually or even automate the process using external software or platform. Importing a customer list have huge advantages when it comes to create lookalike audience.
For more advance strategies you can even segment your customer list before importing it to Facebook, This allows you to really laser targeting them with the right offer and right angle.

WHEN IT COMES TO CUSTOM AUDIENCES THE OPTIONS ARE LIMITLESS!

Let's make it clear...
If you're not segmenting and testing multiple customs audiences you're leaving money on the table!
Once you have enough data you should start creating and testing as many audience as you can.
As an example: If you're just creating a custom audience of all your website visitors without divide them by time spent on the website, number of page views, value spent, or the step of the funnel that they are in, you're not optimizing how you spend your money trough the re-targeting campaign.
It means that you're letting Facebook to spend your money randomly to all the people who visited your website.Instead, you should take control of how you are spending your money, and invest more on people that are much more likely to buy, allowing you to increase drastically your returns on ads spends!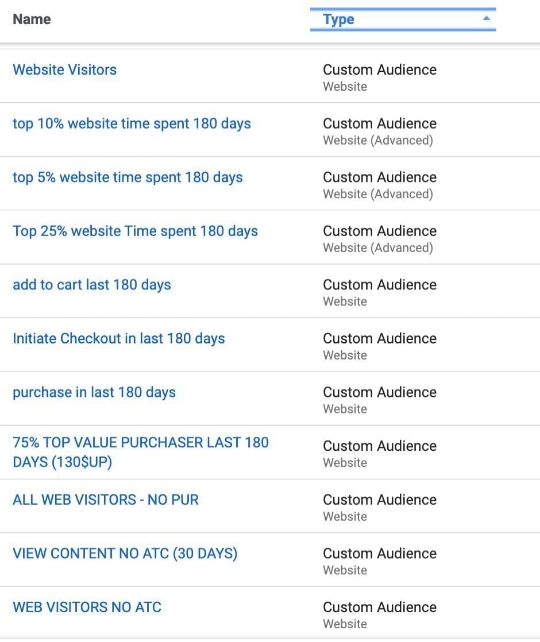 If you don't know what we are talking about please read carefully the next few paragraphs and take some notes....
What we are going to tell you is something that nobody teach at school and nobody is giving away for free like we are doing. 

LOOKALIKE FROM WEBSITE EVENTS
Reach new people whose interests are similar to those of your best customers.
Lookalike audiences are the most powerful audiences that can be used on the Facebook platform and you should learn how to master them in order to scale profitably your campaign.
Look-a-like are basically audiences created by the Facebook algorithm by picking up people that are similar to who have already interact with your page, ads, or website.
You can create lookalike based on behavior of your existing users, for example people that have already purchased from you or that have took specific action, like add to cart, initiate checkout, page view, or any custom conversion that you have set up trough your funnel.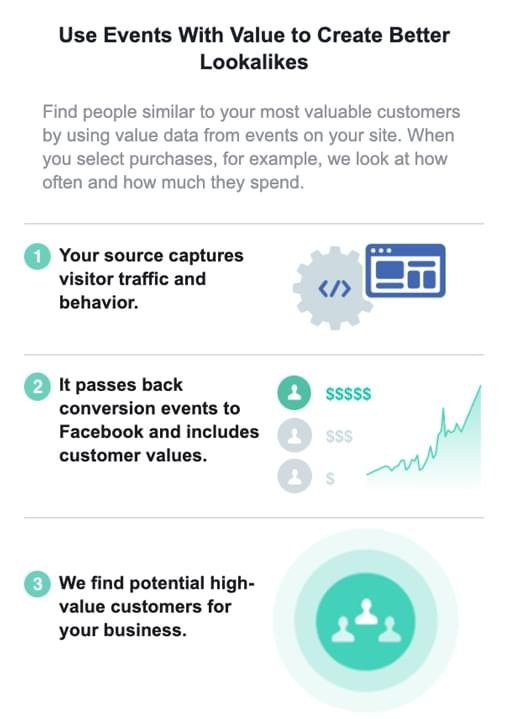 LOOKALIKE FROM CUSTOM AUDIENCES AND OTHER SOURCE
Going more deep on that, the most powerful kind of lookalike audiences are the ones based on custom audiences.
As explained before the amount of custom audiences that you can create is limitless, so the amount of lookalike audiences are unlimited.
As an example, you can create a lookalike audience based on users that have spent at least a certain amount of money or time on your website, or that have interact with specific posts on your page.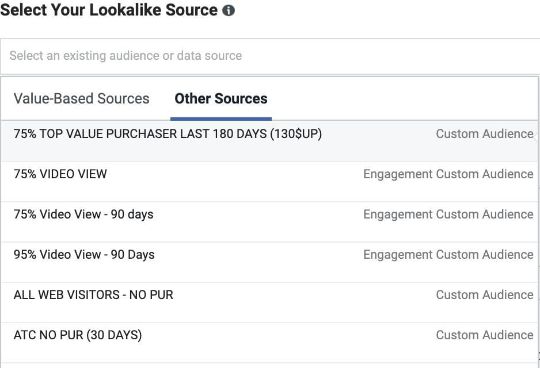 Reach new people whose interests are similar to those of your best customers.

AD CREATIVES THAT CONVERTS

Here are a few key things to consider when advertising on Facebook:
User-generated content wins: Remember these are social networks—users typically see content that looks organic and that is mostly created using a standard smartphone camera. To fit in on Facebook, you should avoid using creative that won't feel native to the platform.
Your ads are easy to ignore: Unlike other advertising platforms, Facebook ads are entirely skippable, whether you're scrolling through your feed or tapping from one Instagram story to the next. To be successful on Facebook, your ad must capture attention within the first few seconds.
Muted videos are the default: According to Digiday, 85% of Facebook's users are watching videos without sound. Using subtitles, eye-catching visuals, and product demonstrations are useful ways to get your message across whether sound is on or not.
Users can engage with your ads: Another unique feature of Facebook and Instagram ads is the ability for users to interact with them through shares, comments, and likes.
Creating an ad that generates comments and shares can increase the reach of your post beyond the audiences you directly advertise to.

WHY GOOD QUALITY CREATIVES ARE SO IMPORTANT:

Good creatives are essential not only for maximizing CTR and conversions but also for keep your cost of advertising low.
When you're bidding on an auction, Facebook takes in consideration not only your bidding amount but also the quality and relevance of your Ad, regarding the audience that you're bidding on.
If your ad copy and creatives are high quality and with a good engagement ranking and relevance to your audience, Facebook will make you win the auction even if you're bidding a less amount of money compare to your competitors, on top of that your CPM will be lower, your CTR will be higher and you can achieve a lower cost per conversion and return on ads spend.
Basically High quality creative saves you a tons of money!

THE 3 MOST COMMON TYPE OF CREATIVES:

When creating a campaign is important to test different kinds and format of creatives in order to optimize how Facebook delivery your ads based on its inventory.
Basically if you are using different creatives style, Facebook will have more room to show your ads to as many users as possible.
Some users prefer to engage with Video, some reacts better to photos and some others coverts the best with carousel, if you're using all 3 variants you can reach all of them and increase the number of conversion. 

One of the most critical things when creating an Ad is copywriting.
Creating high converting Ad copy can be very difficult and time consuming, that's why professional copywriting services are so expensive.
Having in place a great copy structure and using persuasive techniques it's extremely important in order to optimize the results of your ads

Make sure your headline accomplishes at least one of the following... 
Capture attention
Inspire thought
Confirm suspicion
​​Promise powerfully
​​Create intrigue
​​Question reality
While also Inspiring the reader to explore the rest of your content.

THE IMPORTANCE OF HAVING A STRONG OFFER
When advertising it is extremely important to have a strong offer.
The most important purpose of the ads is to redirect tons of high quality traffic into your funnel.
An attractive offer increase the efficiency of your Ad

Once you took your prospect attention and persuade it with a strong sales copy, it's important to get them taking action quickly since people like to procrastinate.
A strong call to action is essential to give them a sense of urgency in order to make them act instantly

ANALYZING DATA FOR SCALE YOUR CAMPAIGN PROFITABLY

Analyzing data constantly in order to optimize your campaign is really important, you want to know whether or not your ad is working as soon as possible in order to double down on ad spend or cut your losses as soon as possible to save money.Measuring your ROAS answers the two most important questions when it comes to successful Facebook advertising, but should not be the only parameter that you need to focus on.

ANALYZING THE COMPLETE FUNNEL

Looking at the full spectrum of data is the only way to understand what step of the funnel should be improved and how to fix problems to improve the overall profitability of your campaign

HOW TO ANALIZE AND UNDERSTAND THE PROBLEMS ON THE FUNNEL:

STEP 1 ( CPM-CTR-COST X CLICK ) = Quality and relevance of your creative 
Analizing the CPM and CTR you can understand if your creatives are effective for your target audience
STEP 2 ( LINK CLICK - LANDING PAGE VIEW - CONTENT VIEW ) = Quality and speed of your landing page
Analizing the percentage of landing page view compared to the link click is a good indicator of the loading speed of your landing page, if you have an high percentage of people who click the links but did't view your landing page, you should consider to optimize your landing page speed.
STEP 3 ( CONTENT VIEW - ADD TO CART RATIO ) = Quality of your Offer
The next step is the ratio of Content view / Add to cart , if you a low ration of Add to cart compared to the content view, it means that your offer is not strong enough or is not relevant to your website visitors, you should consider to slit test Prices and Offers
STEP 4 ( INITIATE CHECKOUT - PURCHASE ) = Trust of your checkout page, payment methods, shipping method, checkout optimization
If your ration of Initiate Checkout/Purchase is low means you should optimize your checkout experience, some factor that could stop visitors from complete the order are: lack of social proof and trust badge in the checkout page, problem with payment getaway ( preferred method of the visitor is not supported on your website), shipping method or shipping time ( it is always preferred to have in place different shipping method and split test shipping rate)
STEP 5 ( PURCHASE - ROAS ) = OVERALL QUALITY OF CAMPAIGN
The last and most important metric to analize is your return on ad spend, this is the metric that let you understand the overall profitability of your campaing, keep in mind that for most of the business with high customer life time value, even if your cold campaign ROAS is breaking even or slightly in loss, the overall Return on investment of your marketing campaign it could be really profitable, in order to analize the overall ROI you need to create customs report based on FB ads report plus additional external data.

BREAKING DOWN THE RESULTS AND OPTIMIZING

Once you have enough data you should start breaking down your campaign and analyze every single aspect.
Analyze and Optimize the delivery separately for different platform and device, segmenting audiences by age, gender and location, and optimize the call to actions, copy and ad creatives.
On high budget scaling you need also to be careful about audience overlapping, it is important that your Adsets are not competing against each others on the bid auction.

BREAK DOWN BY AGE AND GENDER

The first thing to break down should be Age and Gender, in order to start to narrow down your target audience and split test different creatives more specific for the audience that is performing better.

If you are selling in multiple countries you should analize the data separately for every country, cutting the less profitable and improving the more profitable.

BREAK DOWN BY TIME OF THE DAY

For some business time of the day is crucial, if you notice important change of performance based on time of the day, you should start to relocating your budget trough the most profitable hours or days.

IMPLEMENTING MANUAL BIDDING

Once you're scaling on high budget, it is fundamental to keep your budget safe , rely on automatic bidding is the most common error that most of advertiser are doing

MAIN BENEFIT OF MANUAL BIDDING:
Control your cost per results while scaling
Get high quality traffic
Improve profitability
​Dominate the market and competitors

Once every aspect has been optimized is time to Scale your Business. Our Advanced Techniques paired to a Solid Marketing Strategy will open your Business to Limitless Possibility

Once every aspect has been optimized is time to Scale your Business. Our Advanced Techniques paired to a Solid Marketing Strategy will open your Business to Limitless Possibility 

CLICK THE BUTTON BELOW IF YOU WOULD LIKE TO
SCALE YOUR BUSINESS WITH US!